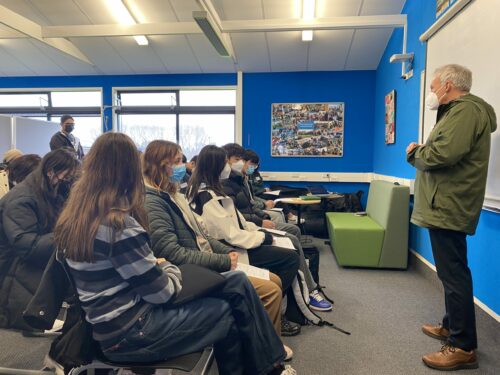 NEW TERM 3 INTERNATIONAL STUDENTS
After the NZ border closure to international students for two long years, the international department welcomed a group of 31 new international students for Term 3. We ran a two-day orientation workshop for them covering various topics like what they should do if they have problems, how they can find their classrooms and what rules they need to follow. They also had an opportunity to meet the principal, their Heads of House and House leaders so that they can get to know not only the international team but also the other school community members.
It has been more than two weeks since they started attending their classes. Here are their highlights so far.
Esteban Zamorano Maurel from Chile … "I enjoy everything. People are kind here."
Zilong (Jacky) Zhu from China … "I like the environment and the fresh air on the campus. The teaching style at Western Springs College suits me." 
Joanna Szukala from Poland … "There are a lot of subjects to choose from at Western Springs College. So I can take the subjects I am interested in. People are friendly here, too."
Teruko Makino from Japan … "I made some local Kiwi friends."
Ria Yu from Germany … "I can do a lot of practical things like games and experiments in class. I also find the people at the school are friendly."
Petchpiangpor (Preem) Sueasuwan from Thailand … "Everything is good! I like the environment. Teachers are kind and helpful."
Student's story by Clara Sattler from Germany
In the middle of Term 2, Clara Sattler from Germany joined Western Springs College to experience the Kiwi school life for about three months. She has shared her experience at the school and homestay, as follows.
My time in New Zealand and at Western Springs College has been fantastic. I really like the open plan setting and the relaxing atmosphere at the school. The teachers are friendly and relaxed here, too. 
My favourite subjects are English, Geography and Digital Technology. I found Geography interesting and how it is taught in NZ is quite different. I had never learned Digital Technology before but am enjoying the subject. I designed a house on a computer. 
I started to join the school hockey club on the second day at Western Springs College. It took me some time to become familiar with the English vocabularies used in hockey, but I have been enjoying playing with my Kiwi team.
Out of a variety of my experiences in NZ, I enjoyed hanging out with my friends most. They showed me nice restaurants and the City. 
My homestay experience has been awesome, too. The food my host mother Tracey cooks for us is amazing. It is great to get to know their culture, including rugby. I knew nothing about rugby before, but my host father likes watching the games and he taught me some rules. I still don't understand the complicated rules but enjoy watching the games now. During the last school holiday, I was lucky enough to be able to travel in the South Island with my host sister and her grandparents. Pancake Rocks and Hokitika River were stunning. We also watched the All Black games at a restaurant during the trip.
The support I received from the international office has been wonderful. Thanks to that, I am assured there is always a place for me to come to when I have any problems.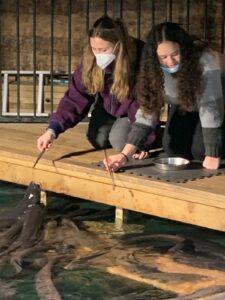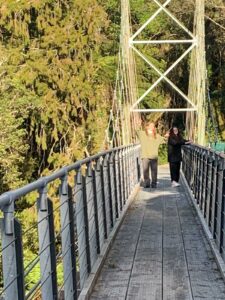 Clara (left) and her homestay daughter Memphis Waiorea student (right) in the South Island.