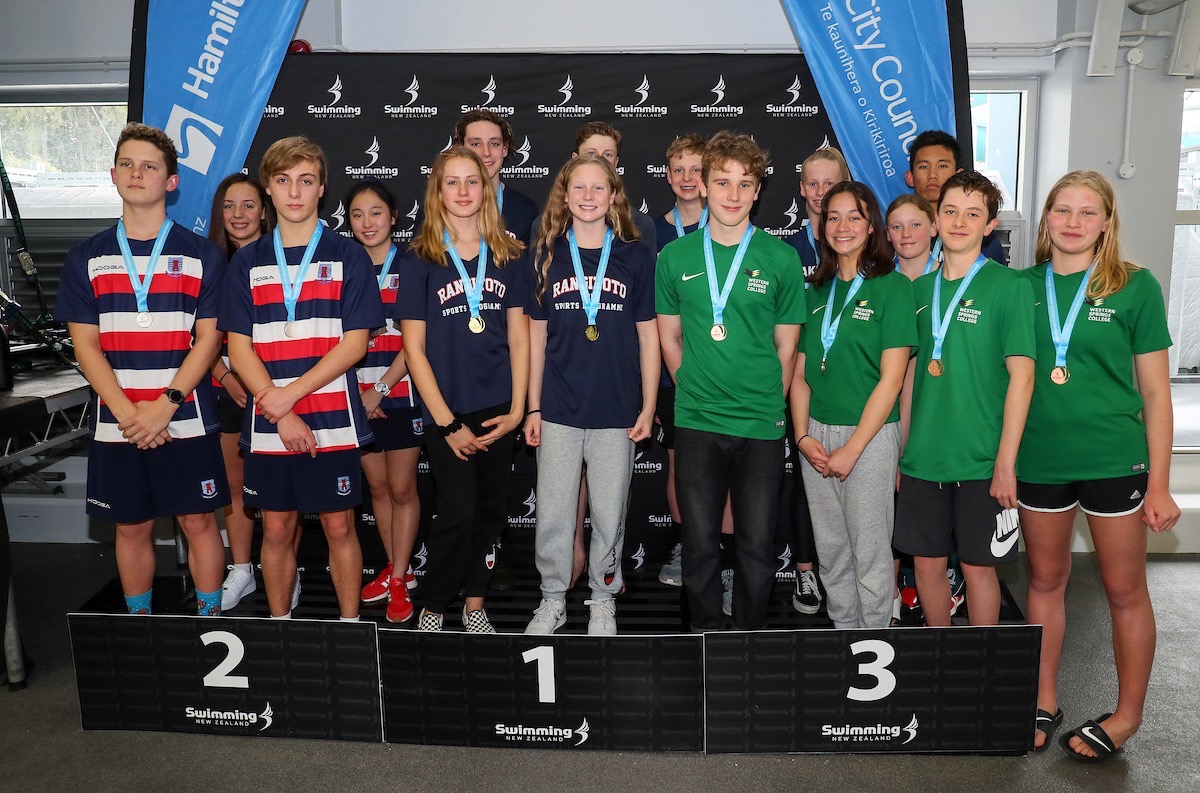 Recently Western Springs College had a team entered in the NZ Secondary Schools' Swimming Championships from 12th September – 15th September in Hamilton.  They swam amazingly well. Here are their results.
The under 15 mixed medley team of Tess Whineray (backstroke), Tobias Beaumont (breastroke), Sam Kenny (butterfly), and Nauatea Crosswell (freestyle) won the Bronze Medal (third equal with Pakuranga College) in a very exciting race with Nauatea holding onto the lead against some fast boys challenging in the outside lanes. They also came 8th in the Mixed Freestyle Relay.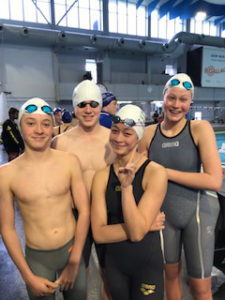 Tobias Beaumont had two top ten swims (50 and 100m breastroke 14 yr boys) and swam two personal best times.
Nauatea Crosswell also swam two personal best times in the 50 breast and 50 fly and another personal best when she was the anchor in the Medley relay completing 50 freestyle in 28.80 seconds!
Sam Kenny swam 7 races and achieved 6 personal best times coming in the top ten for 100 and 200m fly (14 yr boys).
Henry Williams swam five top ten swims including coming 5th in the 16 yr boys 200m freestyle and doing a 6.75 second personal best time in the 200 fly.
Tess Whineray also swam 4 personal best times and won Bronze in the 14 yr girls 100m Backstroke, Silver in the 200m Backstroke and Gold in the 50m backstroke! (She is going to be representing NZ at the Australian State Team championships in the October school holidays in the 14 yr girls team).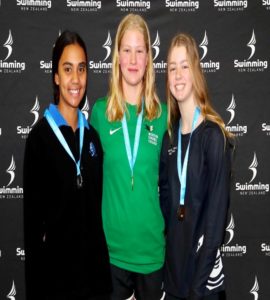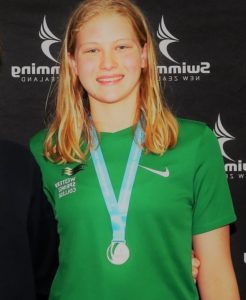 Tess Whineray(middle) gold medal
Thank you Sandra Thomas (Tess's mum) for all your support and to your family for generously donating a set of swimming caps for the school to use when representing at zones, regionals and nationals.