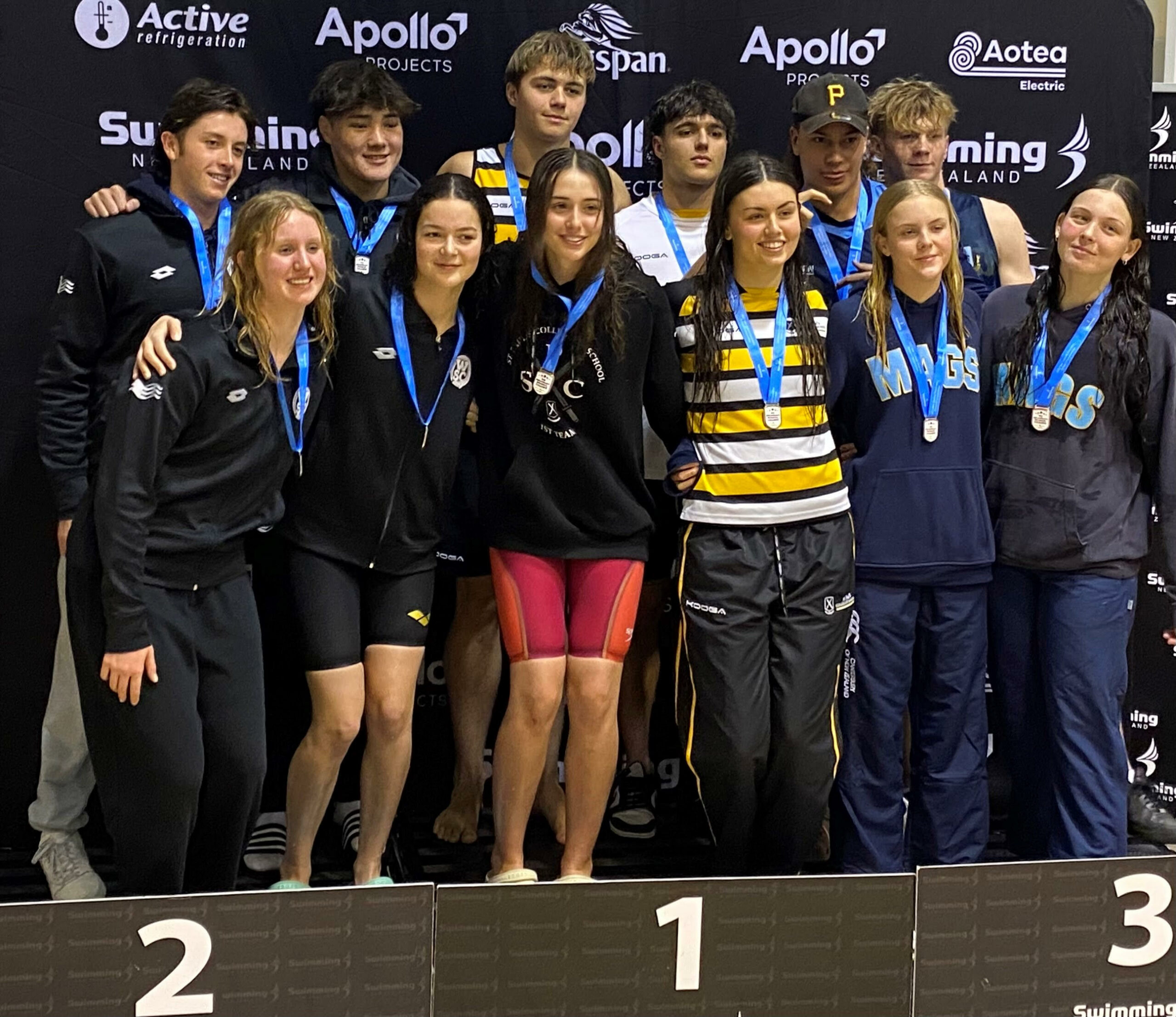 The Western Springs College swim team produced fantastic results at the 2023 New Zealand Secondary Schools' Championships in Wellington from 20-23 July.
The over 16 years 4 x 50m mixed medley relay team of Sam Kenny (backstroke), Abigail Sharp (breaststroke), Liam France (butterfly), and Erika Orbell (freestyle) won the silver medal in a very exciting race. Erika,who is still 14 years old, was the anchor, completing the 50m freestyle in27.97 seconds!
All the relay teams swam faster than their entry times. Tom Kenny (15 years) joined Koen Dettling, Sam Kenny and Liam France in both the boys over 16 years 4 x 50m medley relay and the boys over 16 years 4 x 100m freestyle relay, with 7 th place finishes in both races.
Sam Kenny won silver in the 100m individual medley and bronze in the 200m fly. His individual medley swim also meant that he was one of only 10 boys selected to swim in the elimination skins event, where he placed 4th. Sam swam personal bests in each of his six individual events.
Koen Dettling swam six individual events with personal bests in the 50m backstroke and 100m freestyle and coming 12 th in his age group (17-18 years) for the 200m backstroke.
Liam France swam four top ten swims including coming 6 th in the 16-year boys 50m fly. He got personal bests in four of his five individual entries.
Abigail Sharp swam six individual events, with 8 th place in the 16-year girls 100m breaststroke, 10 th place in both the 16-year girls 50m breaststroke and the 200m breaststroke, and a personal best in the 50m freestyle.
Tom Kenny got personal bests in three of his four individual entries, including dropping 4.70 seconds to place 6 th in the 15-years age group for the 200m fly! He also placed 9 th in the 15-years age group for the 100m fly.
Erika Orbell swam personal bests in three of her six individual events. She placed 8 th in the 200m backstroke, 11 th in the 200m freestyle, and 14 th in both the 100m freestyle and the 100m backstroke for the girls 14-year age group.
Mia France (14 years) achieved personal bests in the 50m freestyle, 50m backstroke, 50m butterfly and 50m breaststroke, and also contributed to the relay team performance in the 2 x 50m girls freestyle relay with Erika.
Best of luck to Sam, Abigail, and Liam who are competing at New Zealand Short Course Championships in Hawkes Bay, 8-12 th August!