STOP PRESS….Congratulations!!
---
Congratulations to our band Park Rd on making it through to the National Final of SmokefreeRockQuest 2019. This recent achievement follows on from their success at the regionals and takes them to the next level with other groups from around the country. Park Rd will perform at the National SmokefreeRockquest Final on at the Bruce Mason Centre, Saturday September 14 at 7pm.
Congratulations to Gabby Christini & Nganeko Wilson-Newman for their haunting song "Everyone Loves Her" and to Te Kapua Te Maapi Pene for "Lie" written with his band Park Rd.
Their songwriting has been recognised at a national level in the 'Play It Strange' National Secondary School Songwriting competition and both songs will be on the album, chosen from over 300 entries!
Term 3 is underway with outstanding class productions. The Drama Department finished Term 2 with 11Drama's Macbeth; the comedy, written by Robert Pollock.  The humorous interpretation of William Shakespeare's Macbeth really left a lasting impression on the audience. It was a fast-paced, thrilling comedy that everyone enjoyed. Hopefully you haven't missed 12Drama in Judas Zoo by Gary Henderson and Theatre at Large!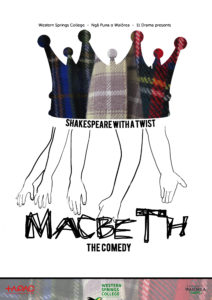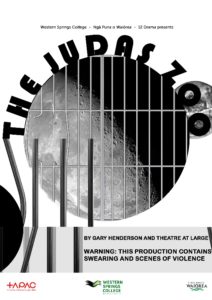 Thanks to Amelia Cohen-Smith – 2019 13Art Design – for the ArtsNews heading in this issue.
arts@wsc.school.nz                                                                                           Kirsty Britton – Arts Coordinator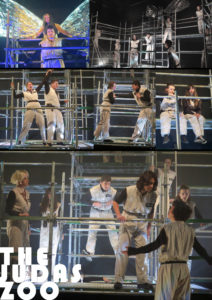 Class Productions
---
In weeks two and three the year 12 students presented Gary Henderson's Judas Zoo. This was a terrific hit. It is a gritty futuristic drama set inside New Zealand's first orbiting satellite prison for young offenders. They all believe they have a "Freedom Deal" which grants them early release. As the play progresses they soon learn all is not what it seems.  The play was written for young actors and gives the cast of 15 great roles to get into. I am very proud of what these young actors achieved and can't wait to see what they can produce next year.
Last term the year 11 drama classes ended term two on a real high with their production of Macbeth the Comedy. The play followed the original storyline, but with a happy ending, The rogue third witch wants the hapless Macbeth all to herself and does all she can to get him. The murderers Macbeth hires to kill Banquo, Fleance (Fleece in our production) and the MacDuffs botch everything. This was a madcap romp through a modern version of the text and every time Macbeth found himself in a dicey situation he would call on his Shakespearean stunt double to sort the mess out by adding a soliloquy from the original. It was a classic farce with a nod to Blackadder and Monty Python and required tremendous focus and energy from the eight casts, not to mention mastery of comic timing. Audiences left very happy and the students performed brilliantly. Well done to all our year 11 drama students.
We took the year 13 students to see Silo Theatre's production, Wolves with a cast of young women including our own Queenie Samuel and Akinehi Munroe. A great show with outstanding acting by the ensemble cast. Congratulations to Queenie and Aki.
This term Jasper Putt in year 11 drama starred in Massive Company's emerging artists show, Like a River. Written by Jo Randerson. Jasper was fantastic and it was treat for our year 11's to see one of their own on the professional stage.
Finally, Oscar Lyons (Year 9) has been accepted into the cast of Encore Theatre Collective's production of Disney's My Son Pinocchio performing at the ASB Waterfront Theatre in December. Well done Oscar.
Robert Pollock – HOD Drama 
Success in the Lion Foundation Songwriting Competition
and in Smokefree Rockquest!
---
This National Secondary School Songwriting Competition is the flagship programme of the Play It Strange Trust. The finalists have their songs recorded at a professional recording studio.  Each recorded song is mastered and included on the annual Play It Strange album. The album is available for free downloading and/or streaming soon.
Western Springs College – Nga Puna O Waiōrea will have two songs on the album this year. They were chosen from over 300 entries.
Congratulations to Gabby Christini & Nganeko Wilson-Newman for their haunting song "Everyone Loves Her"  and to Te Kapua Te Maapi Pene for "Lie" written with his band Park Rd.
Further congratulations to Te Kapua and his band who were named in the SmokefreeRockquest 2019 top 30! It was a real treat to spend time with Park Rd in the studio as they recorded their video submission for entry into the top 30. At the time of writing we are waiting nervously for the announcement of the National finalists…
STOP PRESS…Congratulations!!
Park RD  have been named in the top bands in the country and they will compete in the SmokefreeRockquest National Finals, at the Bruce Mason Centre, Saturday September 14 at 7pm. Get your tickets asap.

Music Department open for study
A reminder to music students with compositions and projects to complete that the department is open every day from 8am, at interval and lunch, and until 4.30pm after school. Make use of this time – the facilities are there for you to use.
Final APO combo visiting
To finish off a very successful year of visits from ensembles associated with the Auckland Philharmonia Orchestra, the Bolling Jazz Combo will be playing on August 26th. Senior music students will be invited to attend.
Where is the new Music room?
As we celebrate the opening of new facilities around the school, music students are relieved that music, for now, is where it's always been. Our turn to de-clutter and pack before moving will come late in term 4. I am very excited, it's going to be fabulous – more information to come.
Margaret Robertson – HOD Music