Classes are back in action we have news and stories galore coming in!
We are very excited to be back at school as we move into the second half of Term 2. Seeing students after 7 weeks has been fantastic and seeing what they have achieved whilst learning at home even better. Whilst there have been many challenges for all we have been impressed by students' application, determination and effort. The many ways students have interpreted tasks demonstrates incredible engagement and outcomes to work have been truly authentic. There have been GoogleMeets, whole class Zooms, Zoom small group activity and scene rehearsals in breakout spaces… video demonstration using time-lapse and moving image technology, photographic documentation not to mention comprehensive instruction to cater to all levels of our Arts learners. Teaching and online learning during COVID Alert levels 4 & 3 has been and will be a time that we never forget and we thank our learners for their tenacity and drive.
We are thankful too to all those who have supported us on our journey at school and from home; to our colleagues, parents, students and whānau – this has been a real community effort and success can be attributed to all involved.
Congratulations 'Caught Inside'!
Amazing musicians and incredible songwriting! Congratulations to 'Caught Inside' – Raf Hosking, Frankie Smith, Caspian Rive and Jasper Renner-Allen who were today awarded the prestigious and highly regarded First Place 'Play It Strange' – Songwriting Award for 2020! What an amazing effort – we are so proud of you all for your collaboration and teamwork with composition and performance. It was wonderful to hear of your success and that Mike Chunn 'Play it Strange' CEO and Debbie Little GM were both coming in to present you with the award. Raf, Frankie, Caspian and Jasper – well done!
Coming up soon… we have drama performance with Sheilah Winn – back in action! Students and teams registered are rehearsing excerpts of Shakespeare for performances that will be filmed and assessed online as a part of the Auckland West – Sheilah Winn Shakespeare Festival. This will be a very new experience for all involved! Participation is always encouraged with this Festival as there are wonderful opportunities that arise for students across all years both nationally and internationally (when borders open again!).
Wishing you all well as you take on new challenges in learning at school. Enjoy being back in classes and the community.
Thanks to Molly Arnott – 13Art Design – for her illustration and ArtsNews Heading in this issue.
Kirsty Britton – Arts Coordinator
Dance students adapting movement to different spaces
Dance students have been keeping movement alive in their own bubbles over the last 5 weeks. It's been great to see our students finding spaces to dance – in lounges and garages, on their back lawns and decks, and even on apartment rooftops! Dancers, you have done a great job of adapting your movement to these unusual dance spaces!
You might have seen or experienced some of the great ways dance has been shared during lockdown around the world. Here at Western Springs College Ngā Puna o Waiōrea we have continued to explore the creative possibilities with our akonga.
We welcomed a new group of year 9 Dance students, who have been working really well in their own spaces to explore literal and abstract movements. They have been finding movement inspiration from everyday life and interesting spaces in their bubbles. Year 9s will move onto learning two different dance genres now we are back in the studio.
Year 10s students have been joining an international dance movement, learning sequences from Rosas Danst Rosas, a well-known dance by the legendary Anne Teresa de Keersmaeker (Belgium).  As well as learning these sequences Year 10 Dance students have created imaginative solo choreography using a chair to contribute to a class ensemble dance.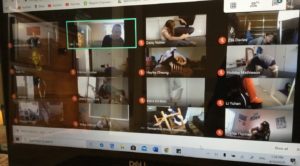 Year 10 Dance chair choreography
The Year 11 Dance class are also developing their choreography skills online. The class has started a new unit of work around the idea of 'Making Connections'. This idea seems even more important now as a stimulus for choreography and the Year 11s are making some amazing movement discoveries, finding connections to their own spaces, their bodies, and this online world.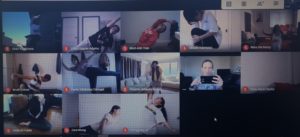 Year 11 'Making Connections' choreography
The Year 12s have been making site specific choreography in their own homes. They have each chosen an interesting site – a desk, wardrobe, fence, corner, and some steps – to inspire new movement for the NCEA standard Choreograph a solo dance to communicate an intention. Students are exploring the possibilities and pushing the boundaries of these limitations to create effective choreography.
Year 13 Dance students have learned dance repertoire from the New Zealand Dance Company and have started to use these sequences as a stimulus for their own solo or duet choreography.
Below are some of the Year 13 class working in our specially 'spaced out' studio. It is great to see students back in our spacious dance studios again this week and finding ways to work together but separate!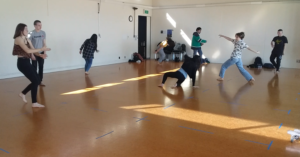 Year 13 Dance students exploring the grid in the specially spaced out studio.
HOD Dance – Chloe Davison
Drama News
Well it has been an interesting 8 weeks with the Lock down, and it's great to see our students returning, safe, healthy and full of life!
We tried to keep all our online classes as practical as possible, but this was not always easy, and many students found the whole experience very challenging.
The Year 9 drama students have focused on developing their own characters. Year 10 are devising scenes based around the story "The Curious Incident of the Dog in the Night-time."
Unfortunately, the impositions imposed because of the various alert levels means that NZQA has suggested we cancel all our planned large scale performances for the live performance standards. (Level 1:AS90009, Level 2 AS91218, Level 3 As91517)
Instead year 11 students have been working in small groups rehearsing scenes from New Zealand plays. Year 12 students are tackling script writing and the year 13 students are devising scenes in duets or solo based mainly around the lives of famous people.
To provide performance opportunities for our students we are looking at performing scenes rather than full productions. While this is not ideal, as they learn so much from being part of a full scale production, it ensures they can still gain the credits for the performance standards.
Look out for possible performances in term 3. We will of course keep you informed.
At Level two with the return to full in-school teaching. We have used tape on the studio and theatre floors in TAPAC to create 2 metre grids. This allows us to easily monitor physical distance as we work. We've invented new games (the Grid game – like a two dimensional puzzle and a version of "fruit salad" where students quiz each other on their lock down experiences) which have worked well in the space.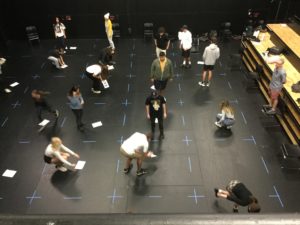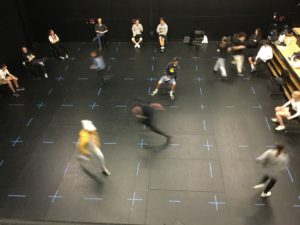 So here's hoping it's onwards and upwards and soon into Level 1 Lockdown! And please if you have any concerns about your child's learning in drama contact us!
HOD Drama – Robert Pollock
WINNERS ANNOUNCED – Play it Strange – Song-Writing!
Congratulations to "Caught Inside"
This band of Raf Hosking, Frankie Smith, Caspian Rive and Jasper Renner-Allen have won first place in the Play It Strange Youthtown songwriting competition!
Mike Chunn and Debbie Little (CEO and GM of Play it Strange), and Fay Amaral (CEO of Youthtown) surprised these students in class on Thursday with the announcement that their song "She Sinks" had been placed first out of around 80 entries. Caught Inside has won a professional recording of their song at Parachute studio. The band will also be on stage at the Play it Strange end of year awards.
Watch and listen out for more from Raf, Frankie, Caspian and Jasper – there is a whisper of an EP on the way!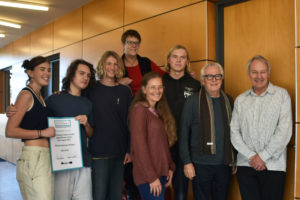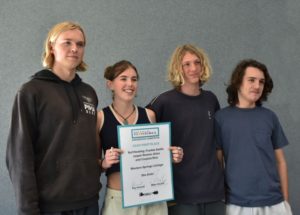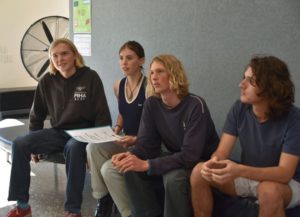 How good it is to hear and see students engaging in music making with each other in person!
Congratulations to all the music students for their perseverance with music study under lockdown conditions. Itinerant music lessons even continued during this time although the well-known sound lag with online meetings made a few of them interesting! As I write a yr9 class is having their first music class actually inside the new music building – their entire introduction to the course was online – quite a challenge.
Calling all trumpeters, wannabe trumpeters, or lapsed trumpeters! Lessons are now available at school! These are free of charge and take place in the music department for 30 minutes each week. We have trumpets (and trombones) available for you to use if need be. Want to learn the trumpet? Get over to the music department and talk to Daniel Barrett or Margaret Robertson.
You could also email us barrettd@wsc.school.nz or robertsonm@wsc.school.nz
Lessons are also now available on flute, cello, and double bass. Get in touch with us!
Margaret Roberson – HOD Music