Wow! Final showcases of senior work in drama and dance are underway.
The Dance Department celebrated the work of all seniors with 'Re-Collect' and most recently with Year 13 in their final showcase 'Impressions' featuring the WSCW Chamber Group. Take time to enjoy the incredible performance photography by Nina Gastreich capturing the 2020 Dance Showcase 'Re-Collect' at TAPAC Theatre.
Commanding attention this week are Year 12 Drama students performing their show "Get Brecht!"in the Ken Havill Centre for Learning alongside their teachers Kayleigh Haworth and Robert Pollock. Two shows at 6pm on Wednesday 28th and Thursday 29th October at 6pm are not to be missed!
Coming up in Week 5…
Do not miss the incredible work of ART MEDIA TECHNOLOGY students this year! Next week we'll showcase their spectacular individuality, amazing creativity and superb success in AMT Exhibition 2020.
Details are:
AMT Exhibition 2020…For one afternoon only Level 1 KHCL will come alive with the work of our Y11, 12 and 13 Art, Media and Technology students…
Please join the celebration of work with us! Thursday 5th November – 3:30-5.30pm. 
It will be an EPIC Exhibition! 
Special thanks to PAG who are proudly supporting the event with food platters.
As we race towards the end of the year… last but not least…. Our fantastic annual event the Junior Arts Festival will be held on Wednesday 2nd December and will showcase fine talent coming through in all junior areas of the Arts. There will be two amazing shows, and exhibition of junior art for all our school community to enjoy. Again, we are so grateful to PAG who so kindly support the occasion with food platters for whanau to enjoy.
Thanks to Jamie Heathcote – 13Art Design – for the ArtsNews Heading in this issue.
 Kirsty Britton – Arts Coordinator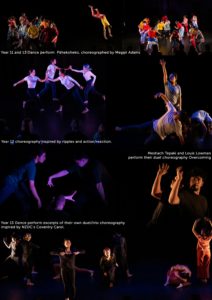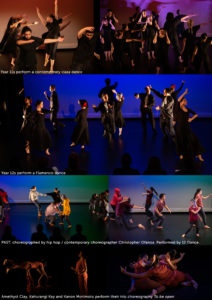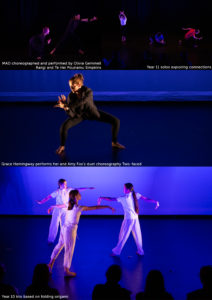 Re-Collect! Dance Showcase!
---
Despite a year of cancellations the Dance Showcase was able to go ahead during Level 2 with an enthusiastic and supportive audience of Western Springs College – Ngā Puna o Waiōrea teachers and students. Thanks for your support!
We successfully trialled a digital version, streaming the whole showcase online for 24 hours. This was watched by 152 people not only locally but in Japan, Australia and Wellington!
The programme of student work was a result of the hard work students put into their choreography and performance assessments in a year that has challenged the way we teach, learn and make dance. Dance students persisted, sometimes alone in their garages, bedrooms and gardens, and also thankfully in the dance studio with their classmates.
What's next??? The Junior Arts Festival! Wednesday 2 December.
All Year 9 and 10 Dance students are welcome to perform
See Mrs Rawnsley or Chloe Davison
Rehearsals: Thursday lunchtimes Studio 2
Special thanks to Nina Gasreich for dance
Chloe Davison – HOD Dance
Drama News
---
With the ups and downs of the lock down process our TAPAC Theatre bookings have been thrown into disarray this year. The year 12 students, therefore, took the bold step of performing their show case "Get Brecht!"in the Ken Havill Centre for Learning this week. The show was a selection of scenes from the plays of Bertolt Brecht, including Mother Courage, Fear and Misery of the Third Reich and The Irresistable Rise of Arturo Ui. Brechtian theatre is demanding and confrontational. He assails his audience with ideas and images that are not always easy to deal with. And yet his ideas are as relevant today as they were more than half a century ago. The students lead the audience around a series of spaces within the KHCL. Beginning on the ground floor with a scene from The Irresistable rise of Arturo Ui, performed in the library and ending with Mother Courage on the top floor. In true Brechtian style, props and costumes were all representational, which forced the audience to focus on the actors and their words.  It was fantastic to see how the actors used the space to deliver their message. Their work was not only vocally very strong, but their command of the potentially difficult space was brilliant. Well done Year 12 Drama!
In week four the year 13 students will perform on Wednesday and Thursday Night. They are presenting a series of monologues, duologues and group scenes from Shakespeare, Pinter and New Zealand Theatre. As with the year 12 students we have had to rearrange our scheduling to fit into TAPAC's timetable. These will be the students' last performances at Western Springs College, Ngā Puna o Waiōrea and a final chance for them to show their talents before a live audience. This  has been a tough year for them as a cohort, but as a group, they have maintained a warmth and  generosity of spirit throughout. It has been a pleasure to work with them and we wish them all the best for the coming year.
Don't forget we have the Junior Arts Festival coming up in week six. We will keep you posted. This is one of the highlights of the year as we get to see our year 9 and 10 students showing their skills and talents across all the Arts disciplines. Stay tuned for more information.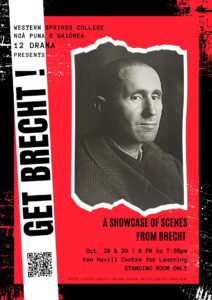 Robert Pollock – HOD Drama
Chamber Group visits Ponsonby Intermediate School
---
Chamber group is off to perform at Ponsonby Intermediate's assembly this Friday.
This is our first trip out this year and we are so happy to be taking this group to perform.
It was a real pleasure for WSC Chamber Group to open the dance showcase event. It makes such a sense of occasion being in a theatre with professional lighting. Drama, dance and Music departments are working together to plan more such collaborations for 2021.
Margaret Robertson – HOD Music
Art Folio Exhibition & Deadlines Reminder
---
Congratulations to all L1 and 2 students that have successfully completed their External Portfolios of work in Art, Painting, Design and Photography.
Next week we celebrate the work of our senior art students finishing Level 1 Practical Art, Level 2 and 3 Art Design, Painting and Photography. AMT Exhibition with the Media and Technology departments is next week on the 5th November in the Ken Havill Centre for Learning, zone Rangitoto. Please join us to celebrate the work of our senior students.
The following term four hand-in dates remain;
Level 3 Art Design & Level 3 Art Photography is due on Monday 2nd November
Level 3 Art Painting is due Wednesday 4th November
Level 3 Art Scholarship due on Tuesday 10th November to TIC's Art Design, Photography and Painting.
Wishing our Level 3 students the best of luck with finishing.
Lily Laita – HOD Art