Te Waka Minenga – Poutuarua: Te Waka o Ken Havill
Kaiwhakairo: Hami
Kaiarahi Tikanga: Paraone Tai Tin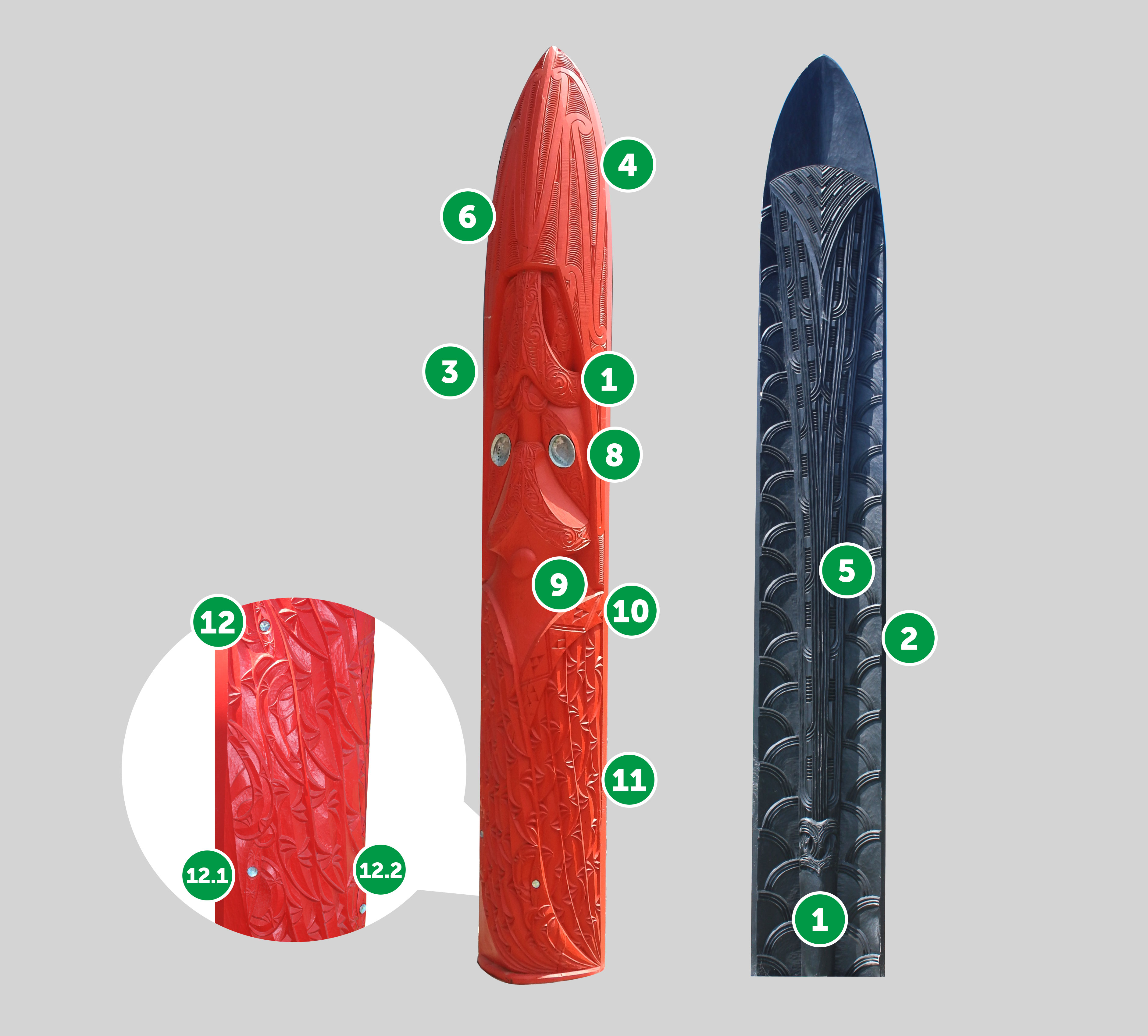 Pouwhenua/Quill:
This piece is symbolic of our late principal and leader of education, Ken Havill. The pouwhenua is a weapon that resembles his ability to lead and protect the special character of Ngā Puna o Waiōrea Western Springs College. Through the unique structure of co-governance, Ken intuitively knew the importance of quality relationships with Māori, people and the education sector. He alongside board members, staff and committed whānau instigated the policy of co-governance and steered the vision into its fruition. The quill refers to the Treaty of Waitangi and the true essence of a partnership between Māori and Pākeha. Ngā Puna o Waiōrea Western Springs College are very proud to continue the embodiment of our unique character in Ken Havill's memory and spiritual presence.

Kupenga:
This design depicts the challenges that Ken Havill overcame in his roles as a teacher, senior manager, principal and pioneer of education. It goes without saying, Ken was a tohunga in his own right, he sacrificed many personal events in his life in order to see the idea of co-governance prosper into reality.

Unaunahi:
The northern fish scale design depicts the special relationship Ken had with the northern communities of inland Moerewa, Kawakawa located in the Bay of Islands. He started his teaching career at Bay of Islands College.

Haehae:
This was a traditional means of grieving for those who had departed. The practice of haehae was done by wāhine. These lines represent the depth of grieving for our past Principal Ken Havill.

Pākati:
There are seven pākati/fine dog's-tooth patterns in carving in each set. This recounts directly Ken Havill's journey in his professional and personal life.
Rangatira Ken Havill was married for 47 years. He served Western Springs College Ngā Puna o Waiōrea for 27 years. It was 7 years of building the unique working relationship with key Ngā Puna O Waiōrea whanau members before the tabling of co-governance. Ken Havill passed in 2017 at the age of 67 years old.

Puhoro:
This is a northern design that recounts when Ken played for Moerewa Tigers Rugby League while he was teaching at Bay of Islands College. The local Māori team and club members became quite admirable of his athletic talents, heart and leadership skills so they promoted him from player to captain of their top side.
Pungawere:
Traditionally this design depicts the receiving of the sacred knowledge by Tānenuiarangi. It aligns to Ken's determination, diligence and high-level operational thinking as a senior leader of educational pathways.

Paua:
This gives direct acknowledgement to one of the deities of the moana, Tangaroa Whakamautai.

Hōkioi:
The absolute divine bird of spirituality. This bird is the sacred carrier of messages from within the spiritual realm through to the physical realm. This particular design also represents the whakatauki "Whāia te Manu Mātauranga – follow in pursuit of the bird of knowledge".

Tāniko:
The three triangle shapes refer to the esoteric sources held in the three oko/bowl received by Tānenuiarangi. The tāniko pattern illustrates the mana of the kaitaka cloak which best describes how much Ken was revered by his people.

Waewae Pākura:
The pattern references the birds' feet descending the heavens; meeting Tāwhaki on his way up. According to some tribes, there were two birds that met Tāwhaki they were known as Matuku and Pūkeko. Tāwhaki was well known for his ability to give clear, concise details of esoteric knowledge. It is said that this is why Tāwhaki is credited with the same abilities as Tānenuiarangi who received the sacred knowledge sources.

Manaia 1:
The Manaia is depicted as a protector and nurturer of whānau. This refers to Lorraine Havill who was married to Ken Havill. She was of Samoan descent. They have two daughters.
12.1 Manaia 2: Si'alei Havill
12.2 Manaia 3: Paola Havill