Te Waka Minenga – Poutuatahi:
Te Waka o Te Ripi (Puhipi)
Kaiwhakairo: Cori Marsters of Te Arawa, Te Whakatōhea
Karaitiana Rurehe of Ngāi Tūhoe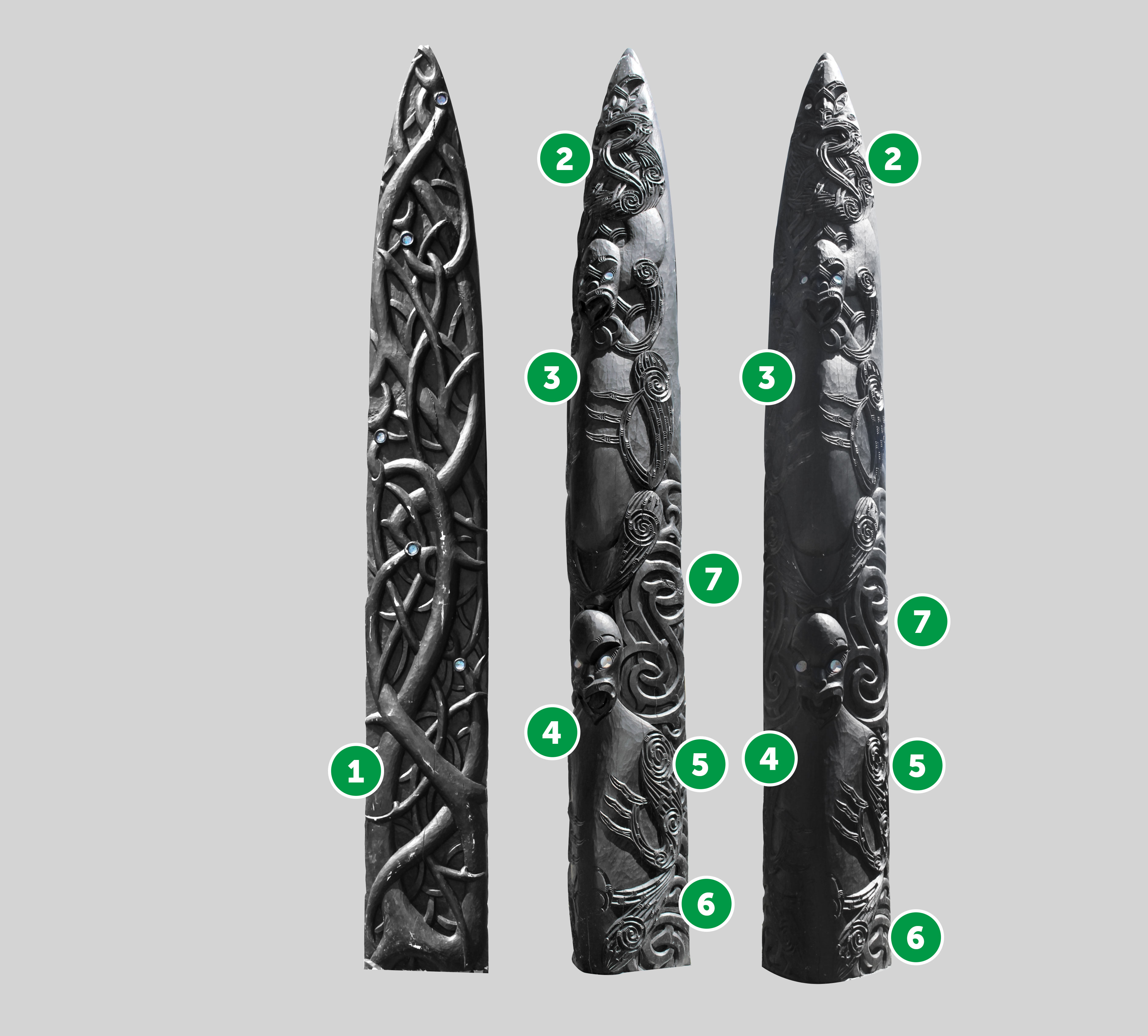 Maui, Hineterepo, Tunaroa:
This pūrākau/mythical legend tells a story of determination and protection. Hineterepo who was Maui the demigod's wife, was being lured by the charm of Tunaroa the mystical being and progenitor of all eels. Maui challenged Tunaroa to a battle which ensured power, strength and skill. Tunaroa met his demise at the blow of Maui's weapon, his body was severed into three parts. Maui threw Tunaroa's remains into the moana/ocean, the awa/river and ngahere/forest. This event gave birth to the different varieties of eels, however, the whanaunga/relative to the eels of the moana/ocean and awa/river are the akaaka/vine that grow in the ngahere/forest. This was Maui's way of reminding the descendants of Tunaroa what he had done, and that they will always be hunted by their own. Mankind has always used the akaaka to make tuna/eel traps for both the moana and awa when hunting for different varieties of tuna. This story celebrates one of our kura motifs: the 'Rea' or freshwater tuna that is only found in Western Springs.

Unaunahi:
This design is known as Ngā unaunahi o Te Ika a Maui which means the scales of Maui's fish. In the northern regions, the three scales refer to the wave guardians that assisted the ancient waka Ngā Toki Matawhaorua and its crew a safe and fast journey from Hawaiiki to Aotearoa who was discovered by Kupe.

Te Wharemate: (Son of Te Ripi-Puhipi):
The founder of educational pathways for Te Uri O Hina, Muriwhenua. Te Wharemate worked closely with Crown and State representatives to establish Pukepoto Native School in Kaitaia. He provided the land and resources to build the school. Pukepoto School today continues to provide for the communities in the far north.

Te Ripi (Puhipi):
The eponymous ancestor, Rangatira and chief of Te Rarawa whom descends from the great war chief TaruTaru and his beautiful wife Ruapounamu. Te Ripi was one of the signatories from Te Rarawa that signed Te Tiri o Waitangi.

Takarangi:
This design defines productivity moving forward into the future whilst keeping the  spiritual connection to your past. The takarangi design refers to the special connection between ancestors in the spiritual realm and their descendants in the physical realm. In other words, our ancestors will continue to make us aware that they are always watching and listening. Then perhaps the question to us is…"are we listening"?

Waka Tupāpāku:
The two bottom designs are fashioned in the form of a traditional vessel or housing for human bones. The bottom is Te Ripi and above him is his son Te Wharemate. The top design reflects their descendants productively and actively contributing to the community while being supported in spirit by their direct ancestors.
Mata Kupenga:
This pattern refers to the first rains in autumn and when the tuna migrate. At this time, learning of traditional whare wānanga started and finished in spring.