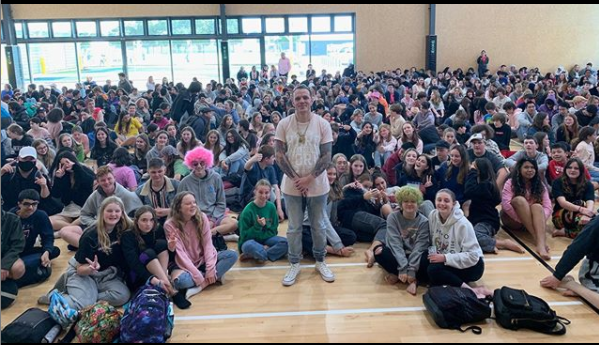 Principal's Notes:
It was a pleasure to host Richie Hardcore at a junior school assembly last week. Our photo shows Richie with his audience of 600 Springs kids.  His anti-bullying message was simple but powerful.  "Stand up, don't stand by!"  Being an "upstander" rather than a "bystander" can sometimes be a challenge so Richie proposed the "5D's" as a way of acting.  Theses are:
Distract – try to draw attention away
Delegate – get someone to assist or get help
Document – with your phone, if it's safe
Delay – if you can, until help arrives
Direct – take charge don't be a bystander, if it's safe!
In a similar vein, Richie's message around consent was memorable, straightforward and built around the acronym FRIES "everyone likes fries, right". Consent means it's:
Freely given
Reversible – you can change your mind
Informed – you know what it is you're doing
Enthusiastic
Specific – now, this time, but not necessarily again.
And finally, Richie's message around bullying, which hit a 'raw nerve' with him, as you will note from the comment alongside the photo, was simple:
"Bullying isn't you, it's the people bullying you.  Stand up and stay true to yourself and don't change to fit in."
He added that "2 real friends" are better than 200 "so-called friends" – a not so subtle dig at the social media phenomenon of 'friending' and 'unfriending'.  Powerful stuff that we are promoting strongly amongst our junior classes.
Prizegiving season:
Scheduled later than usual this year (note calendar of scheduled prizegivings in this Newsletter) because of the delay to the start of the NZQA external exams, and kicked off with our Pasifika prizegiving this Friday, our Sports Awards (necessarily truncated because of the disrupted 'lockdown' season), our Leavers' Event, year level prizegivings and finally our Waiōrea prizegiving in December.  We all look forward to welcoming parents, prizewinners and their friends to these events.  Pop them into your diaries.
Dress Code:
Highlighted in an adjoining piece in this Newsletter, we do ask for support from parents in ensuring that clothing worn to school is appropriate for school, especially as warmer weather approaches.
School Donation:
Our school donation is crucial to our operations, especially so as our returns from foreign fee-paying students drop due to Covid border restrictions.  We depend on your donation to support the smaller class sizes we believe are essential to a good start to College life in years 9 and 10.  Our class sizes here are between 26 to 28 students, much smaller than other secondary schools.  To support that we hire more teachers – 11 more than our government entitlement currently.  Your donation ($500 for 1 child, $600 for 2 or more in your family) is critical to enable this scheme and a range of other supports throughout the school to run.  A fortnightly payment of just under $20 is all it takes from each family.  A special thank you from me to all of those who have paid their donation.