It was great to welcome our international students back to school and see their faces in person after the lovely summer holiday. It has been challenging for some of the students not to be able to return to their home country and see their family for the last two years. But we can see they are doing their best to cope with the difficult situation.
This year, we have two international student leaders, Audrey Zohrab and Kayla Shen, who are passionate about supporting our international students and the international department.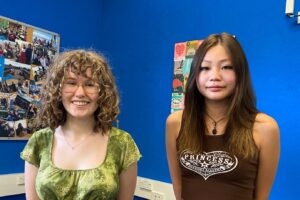 Audrey (left) and Kayla (right)
Here are the introductions of our leaders for 2022.
Audrey Zohrab: Audrey started at Western Springs College in 2021 after travelling and living in Australia and Singapore for many years with her family. She wanted to be an International Student Leader because she understands what challenges a young foreigner could face, and she is motivated to share her experiences and growth stories with others. Her goal is to help motivate international students to develop their skills and confidence while enjoying their growth at Western Springs College.
Kayla Shen: Kayla came from China and started with Western Springs College in January 2020. She has tried a wide range of subjects during the past years to explore her own potential and develop new interests and strengths. Kayla is one of the few international students taking English (Mainstream) from the start of her Year 11 in 2020 and she has achieved well in English.  Kayla is willing to share experiences and tips with others and help international students when needed.
Following last year, we are unfortunately not able to have new students from overseas because of the border restrictions. However, we have a new student from another high school, who is motivated to have a fresh start at Western Springs College. Here are her first impressions of WSC after joining class here for a week.
Sooin Park from South Korea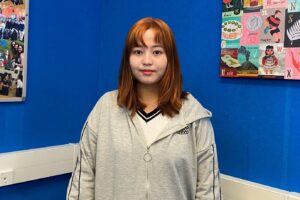 I first heard about Western Springs College from my agent. They told me that the school had a great learning environment in a new building. I also heard that the school would be good for me to improve my English skills.
It has been only a week since I started to attend class here and I do still feel nervous being at a new school, but I am already happy to be here. The classmates are nice and the teachers are kind and caring for students. I like how there aren't too many students in class at WSC. I enjoy the feeling of openness in the open plan classroom settings. At WSC, how we learn in class is very different from that at my old school. Here we learn through exchanging our ideas so I don't feel pressured to "study".
I like my homestay. My host mother Lee-Ann cares about me. I also enjoy her food. There is another international student at home. She is from China. Although we don't talk a lot, we enjoy our company. She gave me her Chinese snack and I gave her my Korean snack.