What would be the best part of supporting international students? Without a doubt, it would be witnessing our students grow as a person over their time at Western Springs College Waiorea. Natasha Meng, who is from Beijing, China, is one of our students who has developed her English skills and confidence in herself during the last two and half years with us. She shared her tips on how to improve English as an international student.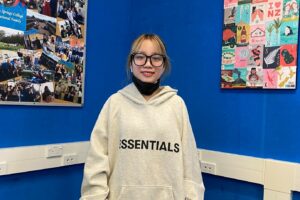 Natasha Meng (Year 13) from China
When I first came to NZ in October 2019, it was my first time to study abroad without parents living with me.
At the beginning, I had a problem with communicating in English. Even though I learned a lot at my English class in China, I found that when I communicated with people in a foreign country, I still couldn't understand what they were saying.
At Western Springs College Waiorea, whenever I had a study problem, I asked my teacher for help and never postponed the problem to the next day or longer. I find that if I delay asking questions, it will be more and more difficult for me to understand.
I have some Kiwi friends. They are very friendly, and when I didn't understand them, they explained in detail to help me. Sometimes, I also go to see movies without subtitles. While I'm on school holidays, I often watch 'Wanda and Vision'. I love Marvel movies so much when they have TV series I watch them on the Disney+ website.
My tip to share out of my three years' experiences at Western Springs College Waiorea is to practise English more and communicate with more people. The other tip is to watch English movies and listen to English songs, or even sing English songs. I hope my tips are helpful for other international students.
International Student Assembly
The international Department holds an international student assembly fortnightly. The assembly is a great opportunity for us to celebrate each student's growth and development through their journey at Western Springs College Waiorea.
At every assembly, a couple of students deliver their speech on 'My Selection of NZ and Western Springs College Waiorea and Experiences and Personal Development at Western Springs College Waiorea', which they prepare with our international student leaders.
Here are the extracts of the speeches Sara Jing and Asal Ghaderi delivered at the last assembly.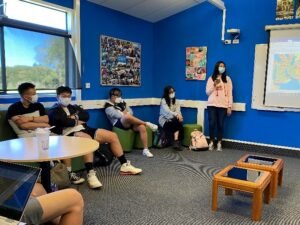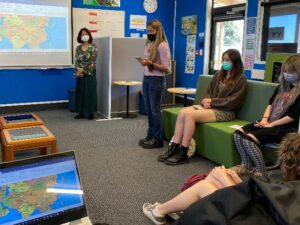 Sara Jing (left) and Asal Ghaderi (right) delivering their speech
Sara Jing (Year 12) from China
I am really interested in music. For me, music can let me calm down, relax and reduce my stress. While I have been in NZ for two years, I unexpectedly found another activity that can make my life rich. That is playing badminton. I hated to play any sports before, but after I came to NZ, I found sports important. Also, I think I was influenced by all my local classmates in Year 10 which was my first year in NZ. Their passion for playing sports and their excitement at the time of getting good results after good teamwork moved me.
When I feel tired from facing my computer, with the endless work for a whole day, I go to play badminton for one or two hours and have a bath after coming home. It makes me calm down, which is really helpful for continuing to focus on my work.
Through my experiences in the last two years, I would like to advise you to try your best to do everything, keep your motivation with you every day, find something that you're interested in, be an independent learner and manage your time well. Finally, just do it!
Asal Ghaderi (Year 11) from the United Arab Emirates
I am so grateful to have been at Western Springs College Waiorea as I have met so many new and kind people and gained more knowledge through my experiences.
Back in Dubai, schooling was strictly academic-focused and rarely involved social interactions using clubs/groups. So coming here and being introduced to these new opportunities was challenging.
When I first came to NZ, I must admit I was a shy person. In Year 8, I rarely socialised with others or participated in school because everything was still new and scary. However, I've learned to get out of my comfort zone with the help of my family and friends. With their help, I was able to find the courage to join school groups like Health-Wise and the debate club. Since then, I've encouraged myself to involve myself more in school.
My main suggestion is to surround yourself with supportive people who help you grow. I believe it is who we surround ourselves with that influences our actions. All it takes is a little courage to experience new things in life, and we must enjoy our time at school and in NZ while we can.