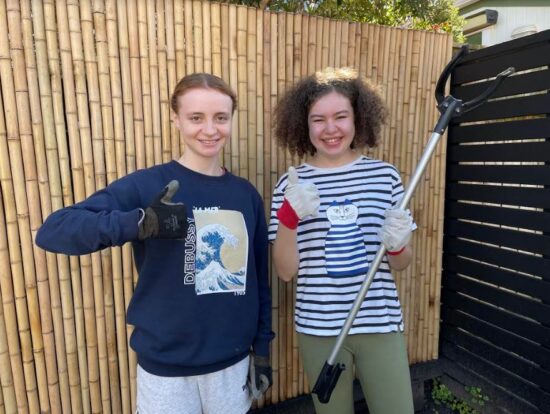 Last term, we undertook a cleanup of our community with the aim of gaining sponsorship which we would then contribute to the school's solar panel fundraiser. We'd like to thank everyone who donated — we couldn't have done it without you! In the end, we raised $1,555 — enough for just over three panels, tripling our original goal of one panel. As well as this, we were able to clean up around Pt Chevalier, Grey Lynn, Western Springs and Morningside and removed 12 rubbish bags worth of litter from our parks, beaches and streets. 
Throughout this process, we have learned that there is great value in going out there, rolling up your sleeves and doing something, and led us both to think that even if everyone just picked up one piece of rubbish when they were out and about this problem would be way smaller, or not exist at all. There is a Māori whakatauki that sums up our whole kaupapa when embarking on our project — Hurihia to aroaro ki te ra, tukuna to ātārangi ki muri i a koe / Turn your face to the sun and the shadows fall behind you. We all have the individual power to make a difference, but when we work together, as part of a bigger goal — like when we decided to try and purchase solar panels to power our school and future, we were not only turning to the sun to find a solution, but turning to the oldest, most primordial form of power — Ka mua, ka muri / turning backwards to face the future. Equally, we were choosing to see the positive, to see the difference we could actually make, even when doom impedes all around us, because we know as well as anyone else that being negative does not solve any problems.
So, if nothing else, we hope that our project has empowered members of our local community to face the future with their hearts full of positivity and hope, because then, and only then, will we be able to truly move forward and into the sunlight.
Ngā mihi nui,
Zylah Vivace (left in photo) & Esther O'Donnell (right in photo)

Year 12 Education for Sustainability