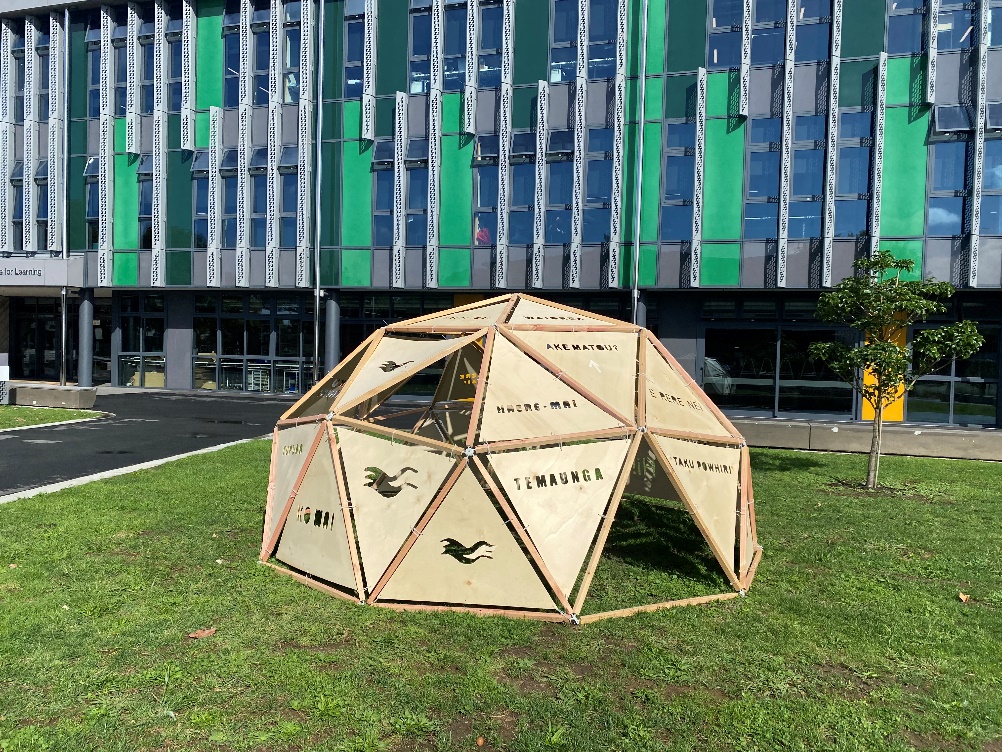 Dome made by Year 13 Design Technology students
One of the reasons that attracts high school international students to New Zealand for studying is that they can choose subjects from a wide range of options.  At Western Springs College, our international students explore their potential and develop their skills by learning the subjects that interest them in a nurturing environment.
Here are some learning stories by our international students who are taking the unique non-traditional subjects.
Design Technology (Previously Hard Material)
Golf Littisarn (Year 12 student from Thailand) chose Design Technology as he thought it was fun to do, it allowed him to be creative and because the teacher was kind. At the moment, Golf is making a light box using wood and acrylic.  He enjoys the designing part most and finds the class to be enjoyable and useful. Golf wants to be involved with designing or making something in the future and thinks his classmates are nice as they help him when he is stuck with something.
Frankie Wang (Year 12 student from China) is also pleased with taking Design Technology. He enjoys the whole process of designing and making products. In making a light box, Frankie got the design inspiration on the internet and is now trying to make it as per the design.  Frankie finds this is the most fun part.  Although he feels challenged when he uses some machine tools he hasn't used before, Frankie feels satisfied every time a task is completed.  Frankie has found it an interesting process to see how a light box is made after completing each task one by one.
Cao Bach Nguyen (Year 13 student from Vietnam) chose Design Technology as he thought it would be fun. He likes having practical experiences like cutting timber and building something out of it.  Bach enjoyed building a dome with his classmates and is currently making a blue tooth speaker in class. He thinks his classmates and teacher are nice and the teacher always offers to help him.
Music
Angela Zhang (Year 12 from China) decided to take Music as one of her subjects as she had played the piano before and wanted to develop her piano skills. She feels challenged sometimes when trying to understand what's taught in class because she is not familiar with some of the technical words used for music.  However, Angela feels she is learning a lot in her Music class and enjoys and feels comfortable with her piano performance in class.
Natasha Meng (Year 12 from China) chose Music as she likes singing.  In class, she feels she is learning a lot. Natasha finds composing music difficult as being creative can be hard for her sometimes. However, she enjoys learning composing and is now more confident in singing, too.
Economics
At first, Angela Zhang (Year 12 from China) found Economics to be quite difficult while learning new Economics technical words. She still feels challenged when encountering new words, but she has enjoyed learning about population and unemployment. Angela is grateful for her classmates to be helpful to her.
Kayla Shen (Year 12 from China) decided to take Economics as she is interested in Business and Economics. At the moment, Kayla is enjoying learning about different types and causes for unemployment and feels it will be useful for her future. Kayla is fascinated by knowing how society works and feels she wouldn't have known this if she hadn't taken Economics.