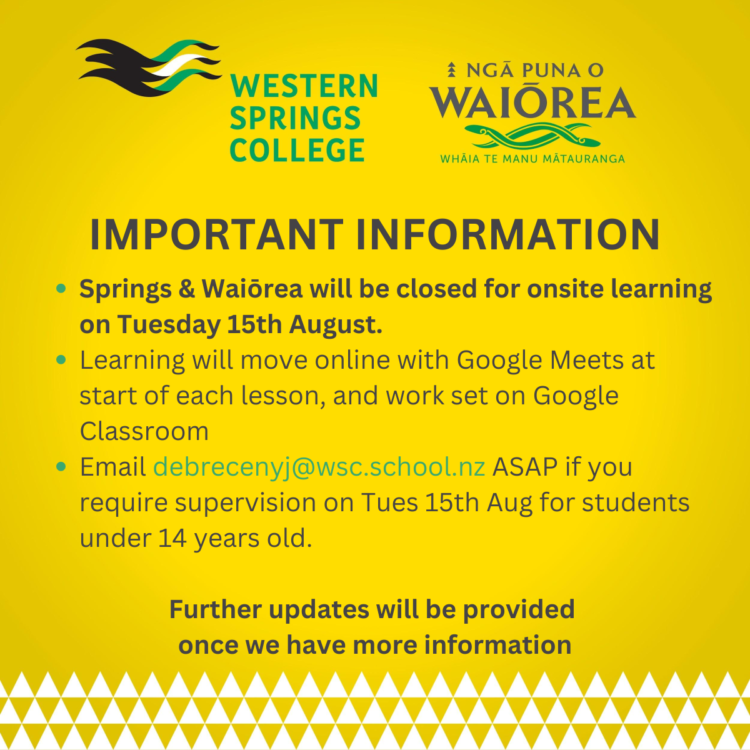 Need to know:
School closed for onsite learning on Tuesday 15th August – Springs and Waiōrea.
Learning will move online with Google Meets at start of each lesson, and work set on Google Classroom.
Email debreceneyj@wsc.school.nz ASAP if you require supervision on Tuesday 15th August for students under 14 years old.
Details:
To ensure health compliance, we have been advised to keep the Ken Havill Centre for Learning (KHCL) closed tomorrow (Tuesday 15th August).  Springs and Waiōrea will be closed for onsite learning.
Decontamination and/or destruction of the affected carpeted areas will take place overnight.
Our compliance certificate confirming that E. coli is no longer present needs to be lodged before we can safely open again.  This should be available sometime tomorrow.
For this reason, we will transition to online learning on Tuesday (15th Aug). Class(es) will begin with a Google Meet so that students are clear on what they need to do and all work will be posted on Google Classroom.  This is for periods 1, 2 and 4 (there will be NO whānau time).  Your child may have already been contacted by their teachers in relation to this.
Parents who require supervision for their children under the age of 14 should contact our WSC Associate Principal, Julie Debreceny, in the first instance – debrecenyj@wsc.school.nz
Further updates will be provided once we have more information.