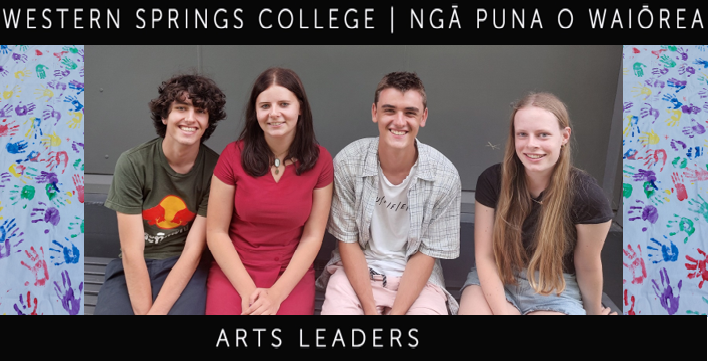 This year we are fortunate to have four new creative and driven Arts Leaders joining our team. Oliver Burton, Oscar Lyons, Ruby Judson, Isabella Benson.
Hi! I'm Bella, one of the 2023 Arts Leaders. My experience in the arts is mostly in music. I play flute and piccolo. Throughout my time at springs I have played with various groups (including the WSC chamber group and West City Youth Band). Supporting others' arts endeavours has always been important to me. I've also gone to lots of Springs's arts showcases, including the Junior Arts Festival and the showcase of senior's visual arts projects. I'm really excited to be more involved in supporting and promoting the arts at Springs this year!!
Hey I'm Ruby! I'm so excited to be one of the Arts Leaders this year. My main passion is visual arts, especially painting. In my spare time you will find me doing all sorts of craft projects and op shopping around the city. I'm looking forward to working with the other awesome arts leaders to bring you a very artful year here at springs!!
Hiya everyone! I'm Ollie, and I'm involved in the music side of the arts at Springs. I play violin, bass and saxophone and am in a number of groups inside and out of school. I can't wait to get to know everyone so we can start planning all the ways to show off the arts and create collaborations not only between the students but the different types of art. I hope to see you around.
Hi, I'm Oscar Lyons and I'm so excited to be one of the 2023 WSCW Arts Leaders. I've always had an interest in the arts since I was able to walk. I've been involved with performing arts since I was 6, being involved in dance and drama classes. At the age of 9, I started to get involved in musicals and have been continuing it ever since. I was involved in the Junior Arts Festival in 2020, Year 11 Drama Production in 2021, Sheilah Winn Shakespeare Competition in 2022 and Year 12 Drama Production in 2022. I'm excited to be an Arts Leader this year because I want to be able to uplift the arts at WSCW. To bring more awareness and attention to the amazing young artists that we have at our school by promoting them with the help of the arts committee.
ARTS COMMITTEE Want to work with these awesome Arts Leaders to promote and support the Arts at WSCW. If you missed the signup it's not too late to join. Email your friendly Arts Coordinator Samantha Wood Rawnsley ( email below) to have your name added to the google classroom page. Meetings – Wednesday lunchtimes ( 2 or 3 meetings per term) TAPAC, S2 Frequency of meetings will be dependent on upcoming arts events and as needed. Notification of meetings will be sent out via our arts leaders and committee google classroom page. NEW ARTS INTAGRAM PAGE – Follow our new ARTS Instagram page arts_wscw Samantha Wood Rawnsley – Arts Coordinator rawnsleys@wsc.school.nz